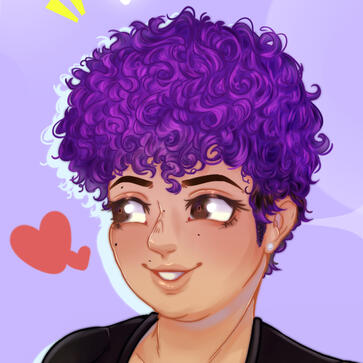 LadyKitsu
Brazilian • Freelance digital artist •she/they • 24 y.o • INFP
Commission Status: Open
Please read all the terms before ordering. In case of doubt contact me by my twitter @Lady_Kitsu or discord Kitsu#1408, will be a pleasure to serve you.
Thank you!
Commissions Prices
«« Listed below are the base prices. »»
Prices may increase based on complexity or number of characters.
For more details check the terms.
---
Big Hands
Icon................$10 USD | 30 reais

Fullbody........$20 USD | 45 reais
Small Hands
Icon................$15 USD | 40 reais

Fullbody........$25 USD | 55 reais
---
Bust.................$10 USD | 30 reais

Haflbody........$15 USD | 40 reais

Thigh up..........$20 USD | 45 reais

Fullbody.........$25 USD | 55 reais
---
Bust.................$25 USD | 55 reais

Haflbody........$30 USD | 65 reais

Thigh up..........$40 USD | 85 reais

Fullbody.........$45 USD | 90 reais
---
Bust.................$20 USD | 45 reais

Haflbody........$25 USD | 55 reais

Thigh up..........$35 USD | 70 reais

Fullbody.........$40 USD | 85 reais
---
Bust.................$25 USD | 55 reais

Haflbody........$30 USD | 65 reais

Thigh up..........$40 USD | 85 reais

Fullbody.........$50 USD | 110 reais
---
Bust.................$15 USD | 40 reais

Haflbody........$25 USD | 55 reais
Termos e regras
---
Informações gerais
• Seja paciente.

• Eu não trabalho aos fins de semana, mas eu respondo mensagens.

• NÃO remova minha assinatura.

• DEVE confirmar que você tem mais de 18 anos ao encomendar o trabalho da NSFW de mim.

• Vou postar a arte em nas minhas redes sociais e meu portfólio como exemplos. Se você quiser sua comissão particular, por favor, me avise.

• Você pode utilizá-lo para mídias sociais, youtube/twitch, ou outros serviços similares. Por favor inclua os créditos.

• Todas as comissões são arquivos digitais. Tipo de arquivo: PNG; Resolução: 300 dpi.

• Se você quiser receber seu pedido por e-mail, avise-me com antecedência, caso contrário, eu o enviarei pelo local onde você fez o pedido.

• Tenho o direito de rejeitar a comissão se achar que não posso executá-la. Informarei o cliente antes do início da comissão.

• Não reivindique minha arte como sua!
| Eu posso desenhar | Eu posso tentar (pode haver taxa) | Eu NÃO vou desenho |
| --- | --- | --- |
| Original Characters | Músculos muito definidos | Qualquer coisa que eu não me sinta confortável |
| Fanart & Fan Characters | Gore leve | Armaduras/ Armas complicadas |
| Casais | Feral | Robos/mechas detalhados |
| SFW | NSFW | Gore/NSFW pesado/Kinks |
| Mulheres e homens | Pessoas velhas | Realismo |
| Humanos/Kemonimimi/Furries | - | - |
Encomendas
• Para fazer seu pedido, favor entrar em contato comigo de preferência via discord, twitter, instagram ou deviantart.

• Fornecer referências claras.

• Eu desenho a partir de descrições escritas, mas apenas desenhos simples, desenhos complexos podem ter uma taxa variável para a complexidade ou podem ter o pedido negado.

• Levará cerca de 1-8 semanas para que eu termine sua comissão a partir do dia em que o esboço for aprovado, com base no quão detalhado é o personagem e o número na fila.
Pagamento
• Pagamentos em reais, através picpay, tranferencia bancaria, pix, boleto e paypal.

• Pagamento inteiro adiantado. Só iniciarei a comissão depois de ter recebido o pagamento.

• Prestos pode varias de acordo com a complexidade do pedido.

• Gorjetas não são necessárias, mas muito apreciadas. Tenho meu Kofi vinculado em carrd ou me pergunte por onde prefere enviar.

• Haverá uma taxa adicional para:
Personagem adicional (80% do preço base)

Poses complicadas

Alguns trabalhos NSFW

Roupas complexas e detalhadas, tatuagens, padrões e etc

Variantes do equipamento/equipamentos alternativos
Revisões
• Eu faço apenas quatro (4) revisões. Um (1) obrigatório para aprovação do esboço e um (1) para verificação de lineart, outras revisões apenas se solicitadas pelo cliente ou se eu achar necessário confirmar detalhes ou cenário.

• Nada= de revisão de anatomia durante o processo de cor, por favor, dê sua atenção durante o processo de lineart.

• Nenhuma revisão importante após a etapa de lineart=, grandes mudanças durante a finalização serão cobradas separadamente se insistido. Por favor, dêem atenção.

• Eu só faço PEQUENAS= revisões no caso de esquecer alguma coisa, mudar algumas cores, ou adicionar pequenos acessórios que não precisam de muitas mudanças.
Cancelamentos e reembolsos
• NÃO Aceito reembolsos.

• O cliente pode colocar prazos, mas tenha em mente que isto pode gerar taxas extras ou recusar seu pedido se eu acreditar que não posso terminá-lo a tempo, me diga antes do pagamento.

• Se o cliente não se comportar profissionalmente, for rude ou vulgar, ou assediar o artista, a comissão será cancelada sem reembolso de qualquer tipo e sem entrega do produto.
Informações adicionais
• Fundos transparentes e simples (abstrato, gradiente é gratuito).

• Ilustrações completas com fundos médios ou detalhados e iluminação ambiente, a taxa varia e é negociável. MAS é no mínimo de 40 reais.

• O incumprimento do TOS pode resultar em ser colocado na lista negra.
Terms and rules
«« Pra T.O.S em português clique aqui »»
---
General Info
• Please be patient.

• I don't work weekends, but I can answer messages

• Do not remove my signature.

• MUST confirm that you are 18+ when commissioning NSFW work from me

• I'll post the art on my social media and on my portfolio as a showcase. If you want your commission private, please let me know that.

• You can use it for social media, youtube/twitch, or other similar services. Please include proper credit.

• All commissions are digital files. File Type: PNG; Resolution: 300 dpi.

• If you want to receive your order by e-mail let me know in advance, otherwise I will send it to you from the place where you ordered.

• I have the right to reject the commission if I think I can't execute it. I'll inform client before the commission start.

• Don't claim my art as yours!
| I WILL Draw | I Can TRY to Draw (maybe have a fee) | I WILL NOT Draw |
| --- | --- | --- |
| Original Characters | Heavy Muscles | Anything that I do not feel comfortable |
| Fanart & Fan Characters | Light gore | Complicated Armour/Weapons |
| Couples | Feral | Heavy Robot and mecha |
| SFW | NSFW | Gore/Heavy NSFW/Kinks |
| Women and men | Old peoples | Realism |
| Humans/Kemonimimi/Furries | - | - |
Ordering
• To make your order, please contact me preferably via discord, twitter, instagram or deviantart.

• Provide clear references.

• I draw from written descriptions, but only simple designs, complex designs may have a variable fee for complexity or may have the request denied.

• It will take around 1-8 weeks for me to finish your commission from the day the sketch is approved, based on how detailed the character and the queue number.
Payment
• All my payments is in USD, through Paypal.

• Full payment will be upfront. I will only start the Commission after I have received the payment.

• I will send an invoice. Please do not send money beforehand.

• Prices may vary depending on the commission's complexity.

• Tips are not necessary but greatly appreciated. I have my Kofi linked in my cardd or ask me for my paypal address.

• There will be an additional fee for:
Additional character (80% of the base price)

Complicated poses

Certain NSFW works

Complex and detailed outfits, tattoos, patterns and etc

Outfit variants/alternate outfits
Revisions
• I make only four (4) revisions. One (1) mandatory for approval of the sketch and one (1) for lineart check, others revisions only if requested by the customer or if I think it is necessary to confirm details or scenery.

• No anatomy revision during colour process, please give your attention during the lineart process.

• No major revisions after the lineart stage, big changes during finalization will be charged separately if insisted upon. Please give it your attention.

• I only make SMALL revisions in case I forget something, change some colors, or add small accessories that don't need many changes.
Cancellations and refunds
• I DO NOT accept refunds.

• The customer can put deadlines, but keep in mind that this can generate extra fees or refuse your order if I believe I can't finish it in time, tell me before the payment.

• If the client does not behave professionally, is rude or vulgar, or harasses the artist, the commission will be cancelled without reimbursement of any kind and no delivery of product.
Additional Information
•Transparent and simple backgrounds (abstract, one color gradients are free)

• Full illustrations with medium or detailed backgrounds and scene lighting the fee varies and is negotiable BUT is a minimum of 25USD.

• Failure to abide by the TOS may result in being blacklisted